This is the ultimate guide for Tunis nightlife. Get to know the best bars, most awesome nightclubs, relaxed lounges, and cocktail bars in Tunis. I will also share the needed guidelines for partying, smoking, and drinking in Tunisia. If you are new in town, definitely read this Tunis nightlife guide: The 18 best bars, lounges & nightclubs. Let's start! Here are some of the best places to enjoy Tunis nightlife.
Looking for more information about Tunis? Check out my ultimate Tunis travel guide.
Your holiday has started, and looking for a place to party in Tunis? Tunis, the capital of Tunisia, is known for charming medinas, the never-ending summer, and delicious food. Besides these, Tunis has a very vibrant nightlife.
On this Tunis nightlife guide, you will discover the various nightlife scene in Tunis. You will definitely find the perfect spot for you! Maybe you are into clubbing or looking for something more relaxing like a lounge or beach bar. Now let's get started and pick up the favorite bars from the following list. And you are ready for your next holiday in Tunis. Here's all the info you need for Tunis's nightlife.
Guidelines for smoking, drinking and partying in Tunisia
Tunisia is a popular touristic destination, and loads of people are heading there to have fun. When it comes to nightlife, Tunisia has a lot to offer. Limitless bars and nightclubs to party, dance, and have fun. Although Tunisia is remarkably tolerant when it comes to drinking, smoking, and partying. There are still some rules that tourists should be aware of. Check those out that the fun night out will be successful.
The necessary things to know about partying in Tunisia are covered in the post "Guidelines for smoking, drinking and partying in Tunisia" I answer the questions like, "Can I smoke in Tunisia? Where Can I smoke? Can I drink alcohol and party in Tunisia?" I also wrote shortly about shisha, waterpipe smoking which is very common in Tunisia. And lastly, I talk about Ramadan as it might affect your holiday plans.
Here you find the guidelines for partying
Guidelines might be handy when traveling to Tunisia. I promise that those guidelines are super simple. Primarily helpful for a first-time traveler to Tunisia.
The 18 best bars, lounges & nightclubs in Tunis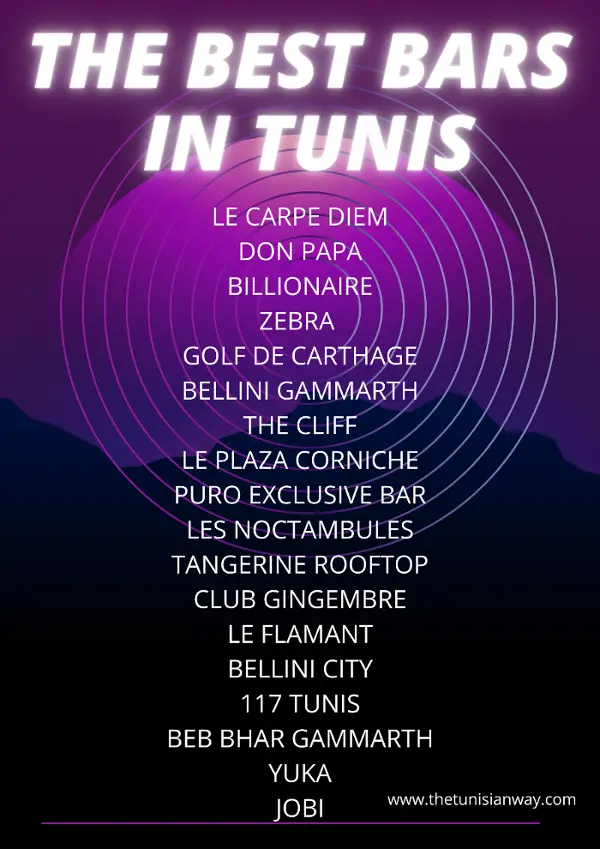 Tunis nightlife guide: The best nightclubs in Tunis
Tunis is not the capital of the most notorious and iconic nightclubs. But some great clubs will offer you an unforgettable night out. To enjoy the nightlife to the fullest, we created for you a list of the best nightclubs in Tunis. Read the in-depth post through to choose the best nightclubs for you. Or maybe try them all.
You find the list of the best nightclubs in Tunis, here! Below, you have a little sneak-peak.
Le Carpe Diem
This place is lively, versatile, and very popular. Maybe you are looking for a cozy spot to have a couple of drinks and tapas with your friends. Later on, Le Carpe Diem offers live music, DJs, and a wide selection of cocktails and beverages
Don Papa
Are you looking for a fancier nightclub? In that case, I recommend one of the best nightclubs in Tunis Don Papa. Located by a Carthage golf course, so the view is pretty unique. Don Papa has a reputation for being a chic, cool, and trendy nightclub.
Billionaire
One of the latest nightclubs in Tunis and its suburbs is Le Billionaire Gammarth. Le Billionaire is a lounge that focuses on food, drinks, and Afterwork in the daytime and changes to a nightclub during the evening. Having a lot of fun is guaranteed.
Zebra
Willing to try an Arabic disco? Zebra club is an indoor nightclub that offers a lot of events focusing on Tunisian and Arabic music. On your stay in Tunisia, you must experience a traditional Arabic disco. For this purpose, I recommend the Zebra club for you as they offer the best oriental parties and Arabic discos.
The best lounges in Tunis
Frankly, lounges are an important part of Tunis nightlife, much more common than nightclubs. I highly encourage you to visit one of the places that are listed below. Whether you fancy a glass of chardonnay, good vibes, chill music, or a classic gin-tonic, you are sure to find it from Tunisian lounges.
You find the best lounges in Tunis, on this list.
Golf de Carthage
The atmosphere in Golf de Carthage is calm and offers the perfect balance of luxury and relaxation. It's found at the Carthage golf course in La Soukra. It's a perfect place to eat, drink, relax and chit-chat with a friend. There's also plenty of room to gather with a bigger group of friends or family.
Bellini Gammarth
Last summer 2021, Bellini Gammarth was the place-to-be. This place is a combination of lounge, bar, and restaurant. Certainly, worth visiting through the year. The place itself is very nice-looking with a pool. They have succeeded with all-white decoration, architecture, and setting. A beautiful seafront view is a great plus.
The Cliff
One of the best restaurant-lounge is located on top of the cliff in La Marsa. If you are looking for a place where to admire the sunset. The Cliff offers the most outstanding view. I recommend having a glass of wine in their wine bar and enjoying the landscape.
Le plaza Corniche
If you are looking for a place that isn't crowded and noisy. This is an excellent lounge for you! Relax with a glass of cold beer or wine and a plate of tasty Mediterranean food. Take a seat from an indoor restaurant or terrace where you can enjoy a lovely landscape with a sea view.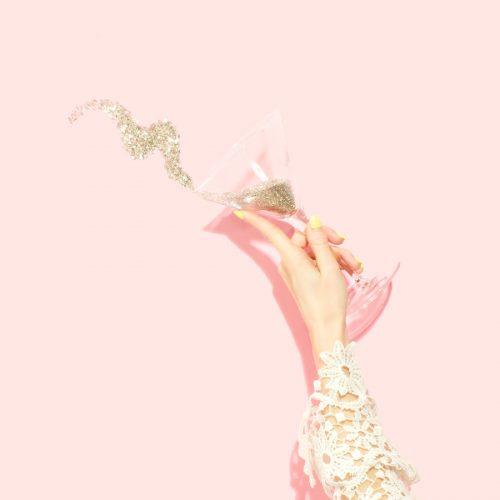 The best cocktail bars in Tunis
Just, that the options wouldn't run out. Next in this Tunis nightlife guide, I go through the best cocktail bars in Tunis. One of the greatest ways to enjoy Tunis nightlife is to visit the best cocktail bars. Pop by for a drink or spend the evening sipping tasty cocktails. The following places deserve a spot on your best cocktail bars in Tunis -list.
Find the full article here: The best cocktail bars in Tunis
Puro exclusive bar
Puro exclusive Bar offers a 5/5 experience. I promise you that you will leave with a smile on your face. Needless to say, this place is a must-try in Tunis. When you have time only for one cocktail bar, I recommend choosing Puro.
Les Noctambules
The story with Les Noctambules is a little bit different, as they are not actually a cocktail bar. The idea is that different bars, nightclubs, lounges can buy a cocktail bar service from them. If you are into fancy cocktails, then Les Noctambules is for you. The reasonable prices are one another plus.
Tangerine Rooftop
The place is everything about pink-pastel tones, cute lightning, and cactuses. A perfect spot to spend a summer day and evening. In addition, the rooftop location offers the view of incredible sunsets. Your cocktail glasses will be filled with sunshine, smiles, and warm summer days.
Club Gingembre
At the beginning of the evening, the Club Gingembre is a bar restaurant. Changes to be a nightclub during the night. If you enjoy a place with a funky atmosphere, perfectly mixed cocktails, and savory bites. Then this is the place for you.
Tunis nighlife guide: The best bars in Tunis
Looking for the best bars in Tunis? Yes! Great, you have come to the right place. I am here to share the best bars in Tunis: after-work and beach bars with you. Keep reading as you don't want to miss these spots!
The best bars for after-work drinks
Had a long day at the office? It's time to get you into the best after-work spots in Tunis. Happy-hour deals and relaxing vibes are guaranteed in these bars. A couple of minutes and you won't remember the stressful day at the office.
For the list of the best beach bars and after-work drinks, click here!
Le Flamant
This place is perfect for after-work! The location is 5/5, the atmosphere calm and relaxed. Le Flamant has become one of my favorite spots in the city center of Tunis. Have a couple of drinks and maybe something small to eat with it.
Bellini city
Bellini offers reasonable prices, a great location, a relaxed atmosphere, a beautiful terrace, and live events. What else do you need for a successful after work? For these reasons, Bellini city is one of the best bars in Tunis to have after-work drinks.
117 Tunis
Want some happy hour merriment in Gammarth? Enjoy drinking indoors or outdoors on the rooftop. The 117 bar is located in the favored bar area Zone Touristique, Gammarth.
Hundreds of beaches are located in Tunisia's 1150km long coastline. So you can imagine how many beach bars are in Tunisia. Many obviously, but in this Tunis nightlife guide, I will share the best beach bars in Tunis.
For the list of the best beach bars and after-work drinks, click here!
Beb Bhar- Gammarth
On a hot summer day, you want to get yourself close to the sea. Beb Bhar- Gammarth is a beautifully designated place with a cheery color palette and a stunning Mediterranean sea view.
Yuka
Looking for a beach bar with breathtaking sea views, relaxed vibes, and lush cocktails. Yuka is a beautiful beachfront bar where you can de-stress and unwind all day and night. This trendy beach bar has been popular for many years. Each summer large crowds head towards Yuka.
Jobi
Beach bars are frankly a big part of Tunisian summer. Jobi beach bar is a great getaway from the hastiness of Tunis capital. Spend the day sunbathing and enjoy the happy hour deals until sunset.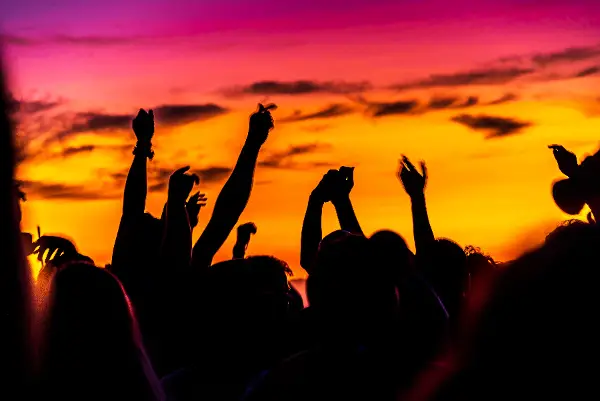 The must-try drinks in Tunisia
In Tunisia, you will discover an impressive array of drinks that you simply have to give a try! Check out the to find new favorites for cold, hot, non-alcoholic, and boozy drinks.
The list of must-try drinks in Tunisia, click here!
Citronnade (lemonade)
Boga
Legmi
Coffee
Tea
Rouzata
Boukha
Tunisian wine
Celtia

I hope that this Tunis nightlife guide: the 18 best bars, lounges & nightclubs, will help you discover and plan your nights out in Tunis. Find the spots that are the best for you from a wide range of bars, nightclubs, and lounges. If you still have some questions regarding Tunis nightlife, let me know below, and I will be more than happy to help.